The opening of a library building is also a triumph, a further milestone on mankind's forward march. For all its stone, steel and mortar it represents things of the mind rather than material well-being. It represents a significant gain for society—an earnest of man's stake in the future and in future progress. - Dr. John H. Archer, in his address at the Official Opening of the Library Building, October 14, 1967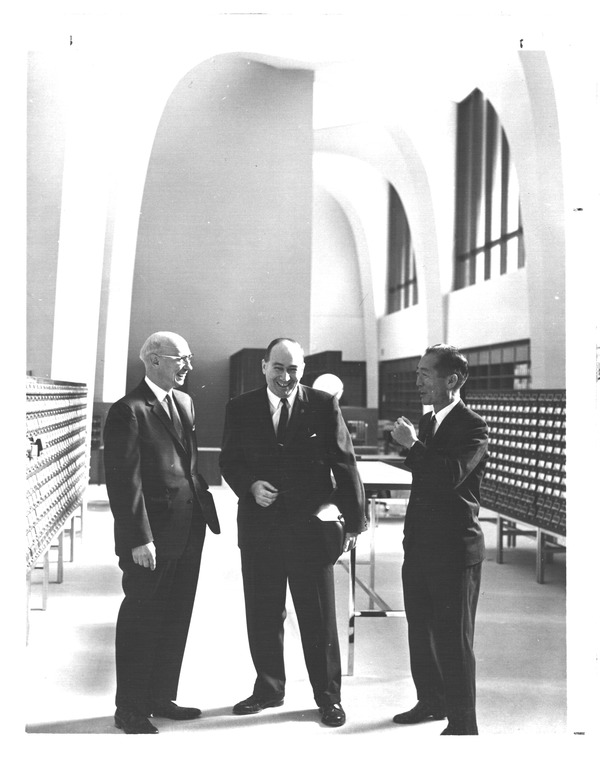 A new library building, designed by noted architect Minoru Yamasaki, was opened on October 14, 1967. The move into this building saw a rapid expansion of the library collection in its role as a research library. The expansion and reorganization included the division of the library into numerous departments, the introduction of automated systems, and the continued expansion of collections. The Library Building was the fourth building to open on the Main Campus in Wascana Centre.
The University of Regina Library can trace its origins back to the early part of the twentieth century as a small, unorganized collection of books for Regina College, a residential high school opened by the Methodist Church in 1911. First organized according to the Dewey Decimal System in 1921, it was later converted to the Library of Congress system in 1935, with the assistance of the Carnegie Corporation. From 1912 to 1959 the collection was housed in the College Building on College Avenue. The Library underwent a rapid expansion in the 1960's following the transformation of Regina College into the Regina Campus of the University of Saskatchewan, effectively doubling its holdings in five years. In 1974 the University of Regina was established as an independent institution; by then, the Library had moved into its present location, though it was not until 2004 that Library collections and services occupied the building in its entirety. — Compiled by Peter Resch, May 26, 2011
[T]he University administration desired to make the Library its symbolic centre, so it was placed facing Wascana Lake, its height and its general architectural treatment designed so that it would have the importance and meet the aspirations of the University for this building. -Minoru Yamasaki – Program – Official Opening of the Library, October 14, 1967
Browse the Collection
---
Produced by University of Regina
Archives and Special Collections
Built with
Wax
.