Mary Filer was a young child when her family moved to Regina. She attended Lakeview School and later, Central Collegiate. Her creative talents emerged at a young age, and she was variously involved in music, singing, theatrical costume design, acting and visual art as a student. After graduation, she enrolled at Balfour Technical School and studied art under artist Garnet Hazard from 1939-1941. The University of Regina holds a collection of artwork produced during Filer's time living in the city.
Evidence of projects from her studies at Balfour School show exploration in various areas of graphic design. A poster for the 1938 film The Drum, then playing at the downtown Capitol Theater, features actor Sabu Dastagir. A witty graphic describing the 1940 Super Buick as Luxury on Wheels demonstrates Filer's sense of humour, while another product from 1940, the Philco shortwave radio, receives more serious treatment. The text Tune into the news from Europe is splayed over a copy of the Regina Leader Post's May 30th front page, which itself proclaims: GERMANS FAIL. A poster declaring, Heed the Need: Be a Nurse, held personal meaning for the artist, who began her studies in nursing at Regina General Hospital in 1941. For a fellow nursing student, Filer contributed caricatures for a handmade, gifted book (Hail and Farewell: A Saga of a Scrub Nurse by Kay Driscoll (1946)).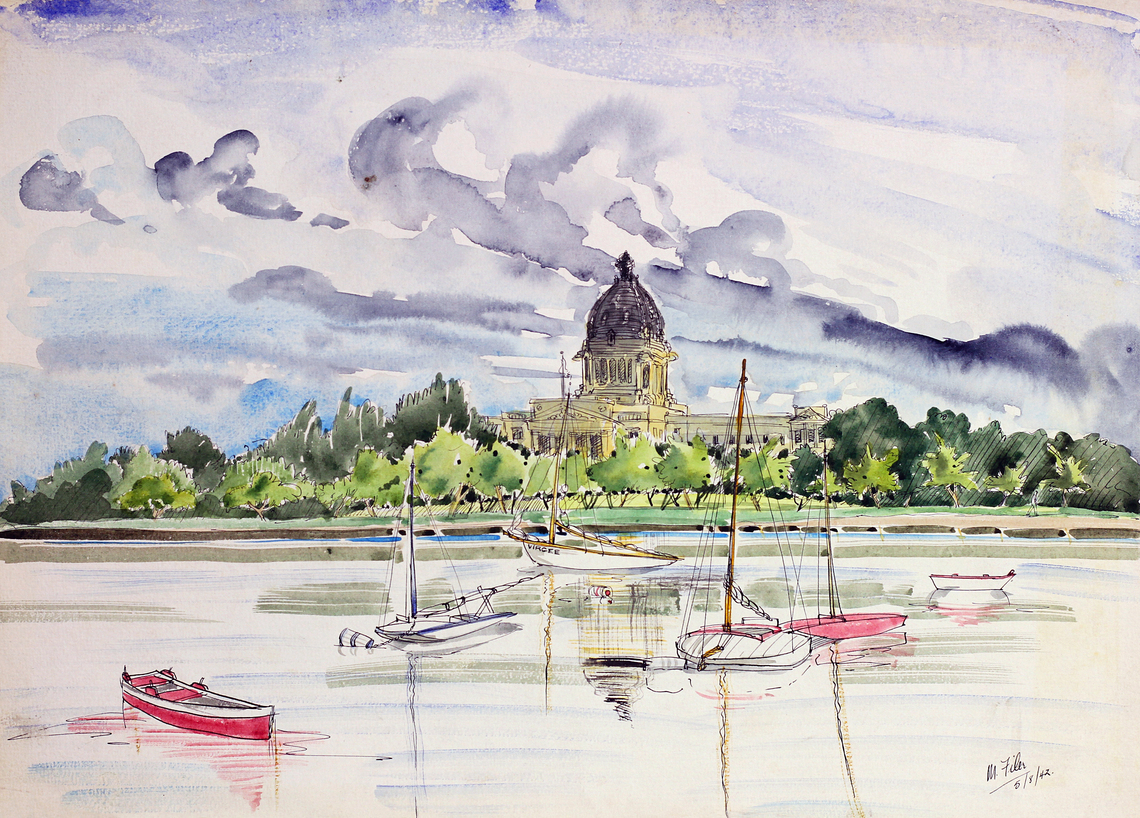 Paintings and sketches from Filer's extra-curricular life give a sense of what Regina was like during the forties. Early figure studies chart the beginning of the artist's lifelong artistic interest in people. There are locals walking on the street, portraits, nude studies, even patients in the dentist's chair. Several sketches from 1944 evocatively document evenings at the Regina Sketch Club, including other members and models cramped in the courthouse attic's garret studio at the corner of Hamilton Street and Victoria Avenue. Peppered throughout is the familiar architectural prairie vernacular of farm buildings and onion-shaped church domes. In one image, the Saskatchewan Legislative Building is viewed from across Wascana Lake. In another, Filer captures one of the many Laundries that existed in the city prior to the popularization of automatic home washing machines. Many of the themes Mary Filer cultivated during her Regina days would continue throughout the rest of her artistic career.